By Sho Chandra, Bloomberg News–
The number of workers on U.S. payrolls declined last month for the first time since 2010, reflecting major disruptions from hurricanes Harvey and Irma, Labor Department figures showed Friday. The jobless rate fell to a new 16-year-low while wage gains accelerated.
Highlights of Employment (September)
Payrolls fell 33k (est. up 80k) after 169k advance; revisions subtracted combined 38k in July-Aug.
Unemployment rate, derived from a separate Labor Department survey of households, dropped to 4.2% (est. 4.4%) from 4.4%; lowest since Feb. 2001
Average hourly earnings rose by 0.5% m/m (est. up 0.3%) after 0.2% rise; up 2.9% y/y (est. 2.6%)
About 1.47m people were unable to work due to bad weather, most since Jan. 1996
Key Takeaways
The hurricanes had a "net effect" of reducing nonfarm payrolls in September, while there was "no discernible effect" on the national unemployment rate, the Labor Department said in a special note Friday. Data-collection rates "generally were within normal ranges" for both surveys that produce the figures.
Restaurants and bars — an industry where most workers only get paid if they show up to work — had a 105,000 drop in payrolls, according to a statement from Bureau of Labor Statistics acting commissioner William Wiatrowski.
The numbers reflect Harvey's impact on Texas in late August, and Irma's fallout in Florida in September. Data on the labor market and the rest of the economy may be volatile for several months as the weather effects wash out and rebuilding picks up. Puerto Rico, which was hit by Hurricane Maria last month, isn't included in payrolls.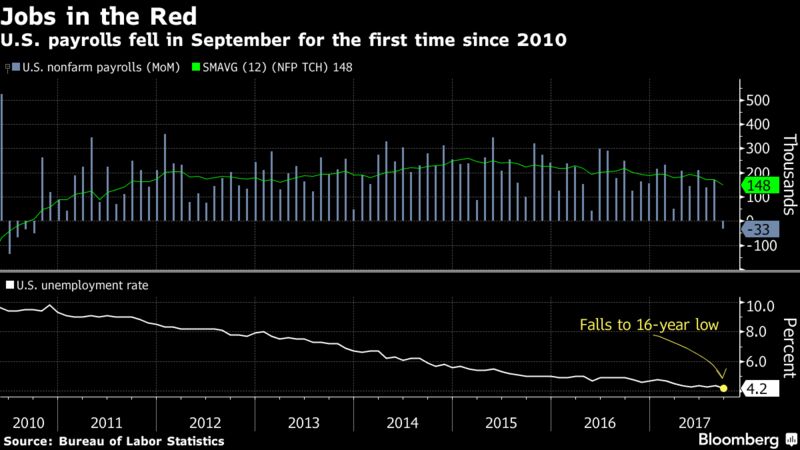 It's hard to measure the exact impact of severe weather on national employment data; state-level figures due Oct. 20 will provide a more detailed look. Federally-designated disaster counties in Florida and Texas accounted for 7.7 percent of U.S. employment in March, according to the Labor Department.
The number of Americans who didn't report to work because of bad weather comes from the Labor Department's survey of households, which reflects the calendar week that includes the 12th of the month. The survey still counts a worker as employed even if they missed that entire week's work for weather-related reasons, regardless of whether they were paid or not for the time off.
The agency's survey of establishments, which produces the payrolls figure, counts as employed a person who worked at least one hour in the pay period that includes the 12th of the month. Bad weather hurts the payrolls tally if employees got no compensation for that entire pay period.
Other data and recent reports — such as Institute for Supply Management surveys for employment in manufacturing and service industries — indicate the underlying labor market is humming along.
The pickup in wages was encouraging, though some economists had already penciled in a boost — with reasons including storm effects that prevented low-paid Americans from working, and a calendar quirk that tends to produce stronger wage growth when the 15th of the month falls within the survey week.
With the U.S. near full employment, Federal Reserve policy makers have been watching for signs of an acceleration in paychecks that may push inflation closer to their goal. The central bank last month forecast it will raise interest rates once more by year-end, with investors and analysts expecting the move in December.
Economist's View
"I don't think this is indicative of problems in the labor market — it's because of the hurricanes," said Gus Faucher, chief economist at PNC Financial Services Group Inc. in Pittsburgh. Excluding effects of the storms, "the economy is in decent shape, the labor market continues to improve, and we'll bounce back to job growth in the final three months of 2017."
Of the jump in average hourly earnings, Faucher said he's "discounting that somewhat" because of the drop in employment at restaurants, a "low-paying industry. "My guess is that's probably more of a compositional mix than a surge in wage growth, so I wouldn't read too much into it."
Other Details
Participation rate, or share of working-age people in the labor force, increased to 63.1 percent from 62.9 percent
The U-6, or underemployment rate, fell to 8.3 percent from 8.6 percent; measure includes part-time workers who'd prefer a full-time position and people who want a job but aren't actively looking
People working part-time for economic reasons fell by 133,000 to 5.12 million
Private employment fell by 40,000 (forecast was up 75,000) after increasing 164,000; government payrolls rose by 7,000
Manufacturing payrolls fell by 1,000; construction hiring rose by 8,000; retailers cut staff by 2,900
Average workweek for all workers unchanged at 34.4 hours (matching forecast)
Number of people out of work for 27 weeks or longer, or the so-called long-term unemployed, rose as a share of all jobless to 25.5 percent from 24.7 percent
— With assistance by Jordan Yadoo, and Patricia Laya