By Sho Chandra, Bloomberg News–
The U.S. economy expanded at a slower-than-projected pace in the fourth quarter on drags from trade and inventories, offsetting strength in consumer spending and business investment that signals solid momentum entering 2018.
 Gross domestic product rose at a 2.6 percent annualized rate after 3.2 percent in the prior period, Commerce Department data showed Friday in Washington. The median forecast in a Bloomberg survey called for 3 percent. Consumer spending, the biggest part of the economy, rose 3.8 percent, the best in more than a year. Business equipment investment grew at the fastest pace in three years.
While the report dashed expectations for the longest streak of 3 percent-or-better growth since 2005, a key measure of underlying demand delivered the strongest performance since 2014 and inflation picked up, which will help keep the Federal Reserve on track to raise interest rates in coming months.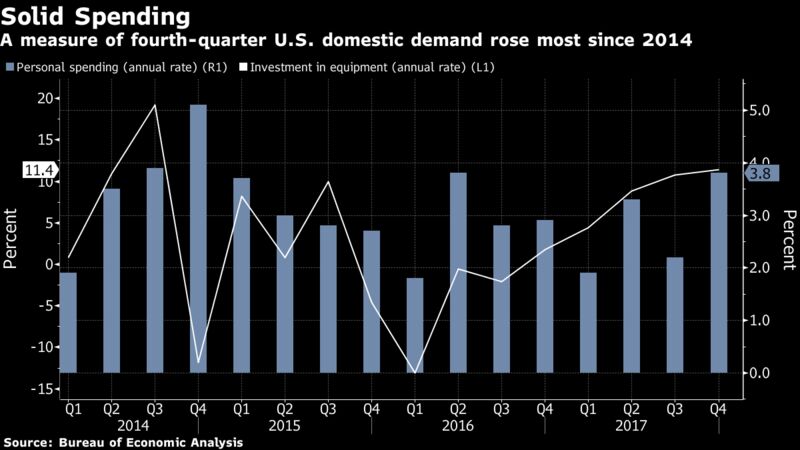 President Donald Trump's move to cut taxes may give the economy an additional boost in 2018, though reaching his goal of sustained 3 percent GDP growth will prove challenging, in part because household purchases are projected to cool. Weak productivity and slow labor-force expansion will also pose hurdles in the longer term, and higher borrowing costs could crimp gains as well.
"The economy continues to hum along," said Ryan Sweet, an economist at Moody's Analytics Inc. in West Chester, Pennsylvania, who accurately projected the 2.6 percent figure. "This is far from doom and gloom. Businesses are investing aggressively and consumers continue to spend at a very strong pace. We got a bit spoiled by 3 percent-plus growth in the last couple of quarters, but that streak was eventually going to come to an end."
Fourth-quarter GDP was dragged down mainly because the trade deficit widened, as imports rose at double the pace of exports. Net exports subtracted 1.13 percentage points from GDP growth, the most in a year. A change in inventories subtracted 0.67 percentage point, the most since early 2017. A separate report on Friday showed that the nation's merchandise-trade gap widened in December to the biggest since 2008.
Underlying Demand
For a better sense of underlying domestic demand, economists look at final sales to domestic purchasers, which strip out inventories and trade, the two most volatile components of GDP. Such sales grew 4.3 percent last quarter, the most since 2014, after a 1.9 percent increase.
For the full year, GDP, the value of all goods and services produced, grew 2.5 percent in the fourth quarter from a year earlier, the Commerce Department report also showed. On that basis, it was the strongest annual performance since 2014's 2.7 percent. The expansion is now in its ninth year and is poised to become the country's second-longest on record later in 2018.
Fourth-quarter GDP growth forecasts ranged from 2.2 percent to 3.8 percent, according to the Bloomberg survey. Household purchases, which account for about 70 percent of the economy, were projected to rise 3.7 percent, according to the survey median. The latest gain in consumer spending added 2.58 percentage points to growth.
Another standout was corporate demand. Business equipment investment expanded at a 11.4 percent annualized rate after a 10.8 percent gain in the prior period. That added 0.62 percentage point to fourth-quarter growth.
The economy also got a boost from housing for the first time in three quarters. Residential construction increased at a 11.6 percent annualized rate, contributing 0.42 percentage-point to growth.
While the boost from tax cuts and a strong labor market may provide support to the economy, growth may be less robust. GDP gains are projected to cool to 2.5 percent as early as this quarter, according to economists' forecasts compiled by Bloomberg.
One reason is that household spending will be hard pressed to accelerate further. Wage gains remain tepid even with steady hiring and the lowest unemployment rate since 2000. Gasoline expenses are ticking up, consumer debt is rising, and borrowing costs are projected to keep rising gradually as the Fed tightens monetary policy.
First-quarter GDP has also been limited in recent years by so-called residual seasonality, or quirks in the data that the government is trying to address.
Other Details
A measure of inflation, which is tied to consumer spending and strips out food and energy costs, climbed at a 1.9 percent annualized pace after a 1.3 percent increase
Nonresidential fixed investment — which includes spending on equipment, structures such as office buildings and factories, and intellectual property — increased 6.8 percent and added 0.84 percentage point to growth
Amid post-hurricane rebuilding efforts, government spending rose at a 3 percent pace, the most since 2015, adding 0.5 percentage-point to GDP growth; state and local outlays increased 2.6 percent, while spending by federal agencies grew 3.5 percent
After-tax incomes adjusted for inflation climbed at a 1.1 percent annual rate; the saving rate decreased to 2.6 percent
The GDP estimate is the first of three for the quarter, with revised figures scheduled for February and March when more information becomes available
— With assistance by Chris Middleton