Washington Post–
President Trump issued executive orders Monday freezing federal hiring. The hiring freeze excludes national security employees.
A hiring freeze was included in the Trump presidential campaign's "Contract with the American Voter." It was the second of six measures "to clean up the corruption and special interest collusion in Washington, D.C." and part of his "100-day action plan to Make America Great Again."
The plan excludes the "military, public safety, and public health."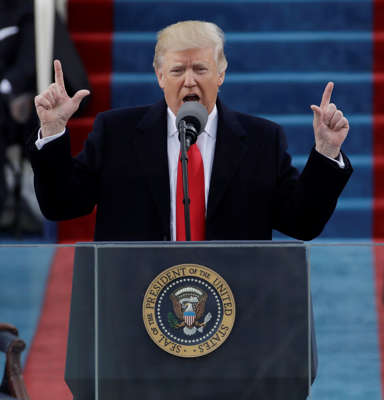 © Patrick Semansky/AP President Donald Trump delivers his inaugural address after being sworn in as the 45th president of the United States during the 58th Presidential Inauguration at the U.S. Capitol in…Earlier this month, The Washington Post reported that the Obama administration was accelerating hiring to get employees in place before Trump took over. But individuals hired, but who have not yet started working, still could be affected by a freeze.
In an August 1981 decision by the U.S. Court of Appeals for the D.C. Circuit in National Treasury Employees Union v. Ronald Reagan, the court ruled that anyone who had been appointed after Election Day, but had not yet started work, were affected by the retroactive freeze because they had not actually become federal employees. It found that a small number of workers among the plaintiff group, however, had begun to perform official work functions and therefore could make a claim based on the standard civil service protections that federal employees hold.
In 1982, the Government Accountability Office (GAO) examined hiring freezes imposed by former presidents Jimmy Carter and Ronald Reagan and determined that was not an effective strategy.
Hiring freezes have "little effect on Federal employment levels," the GAO said. The report said the freezes "disrupted agency operations, and in some cases, increased costs to the Government."
Staff writer Juliet Eilperin contributed to this story.