By Patricia Laya, Bloomberg News–
U.S. employers added the most workers in four months while wage growth slowed more than projected, suggesting some slack remains in the labor market.
January's 227,000 increase in payrolls followed a 157,000 rise in December, a Labor Department report showed Friday in Washington. The median forecast in a Bloomberg survey of economists called for a 180,000 advance. The jobless rate rose to 4.8 percent, and average hourly earnings grew 2.5 percent from January 2016, the weakest since August.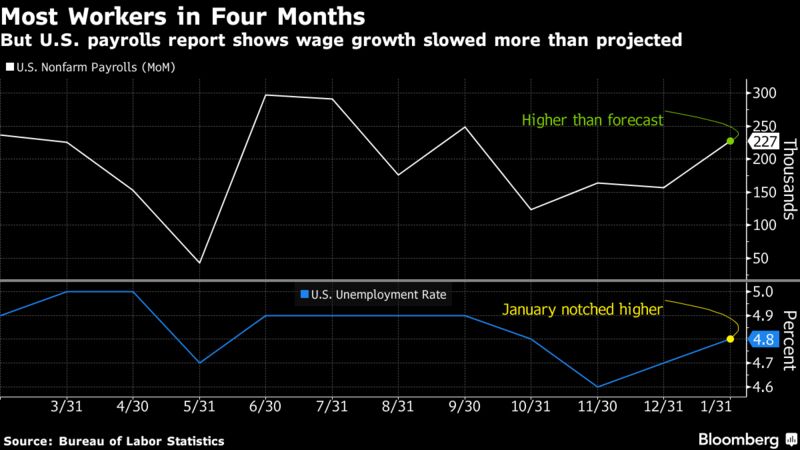 The data, representing the final figures under President Barack Obama, indicate the job market is still enjoying steady growth though isn't tight enough yet to result in a bonanza for worker pay. While analysts expect hiring to cool as the economy nears full employment, President Donald Trump has pledged to bring people back into the workforce and boost wages further through tax cuts, infrastructure investment and looser regulation.
"There's more slack in the labor market than the unemployment rate implies, but we're continuing to make progress in absorbing that slack," said Russell Price, senior economist at Ameriprise Financial Inc. in Detroit, who had estimated a 220,000 job gain in January. "As that happens, wage and salary growth should gain additional traction. "
Federal Reserve policy makers, who left interest rates unchanged on Wednesday, indicated in their post-meeting statement that there's still room for improvement in the job market. While the unemployment rate "stayed near its recent low" in December, "some further strengthening" is expected in labor conditions.
Officials in December penciled in three quarter-point interest-rate increases this year, based on the median projection.
Construction Jobs
The January results were helped by hiring in construction, retail, finance and professional services. The 36,000 increase in construction payrolls was the largest since March.
Revisions to the previous two months subtracted a total of 39,000 jobs from payrolls. November's gain was cut to 164,000 from 204,000, while December's change rose by 1,000 to 157,000.
January payroll estimates from economists surveyed by Bloomberg ranged from gains of 140,000 to 238,000.
The unemployment rate, which is derived from a separate Labor Department survey of households, increased from the previous month's 4.7 percent, where it was projected to hold in January.
The participation rate, which shows the share of working-age people in the labor force, increased to a four-month high of 62.9 percent from 62.7 percent. It has been hovering close to the lowest level in more than three decades.
There were 5.84 million Americans in January who were working part-time though would rather have a full-time position, a measure known as part-time for economic reasons.
Annual Revisions
The Labor Department's figures included its annual benchmark update, which aligns employment data with state unemployment-benefit tax records.
For all of 2016, 2.24 million jobs were created, more than the previous estimate of 2.16 million.
Adjustments to population estimates starting in January make the unemployment and participation rates difficult to compare with previous months. When removing these adjustments, the labor force rose by 584,000, a sign people are being drawn off the sidelines.
Private employment, which excludes government agencies, rose by 237,000 in January after a 165,000 increase the prior month.
Government employment fell by 10,000, with state and local agencies subtracting 14,000 and federal payrolls adding 4,000.
Factory payrolls rose by 5,000, after an 11,000 increase in the previous month.
Compared with manufacturers, service providers including restaurants, business services and health-care are typically less exposed to headwinds such as the stronger dollar and the health of overseas economies.
Retailers increased payrolls by 45,900. Employment in financial activities was up 32,000, professional and business services rose by 39,000, and leisure and hospitality was up 34,000.
Wage Gains
The news on wages was less bright. The gain in average hourly earnings over the 12 months ended in January was less than the 2.7 percent median forecast, despite any possible boost from minimum-wage hikes at the start of 2017, and followed a revised 2.8 percent gain the prior month.
Compared with December, worker pay increased 0.1 percent. Overall wage gains were depressed by a 1 percent drop in pay in financial industries.
The average workweek for all workers was unchanged at 34.4 hours.
Trump spent last year's election campaign calling the official unemployment rate "phony" and arguing it overstates the strength of the labor market. More recently, his Treasury secretary nominee, Steven Mnuchin, cited the so-called U-5 rate as an alternative indicator.
That rate, which increased to 5.8 percent in January from 5.7 percent in December, includes discouraged workers as well as a group called marginally attached workers, who aren't working or actively looking for work but want a job.
The underemployment rate — which includes part-time workers who'd prefer a full-time position and people who want to work but have given up looking — rose to 9.4 percent from 9.2 percent.